When making figurative work, the pieces always end up being a kind of self portrait, not in the literal sense, but they reflect my sensibilities. It used to bother me that this happened, but now I accept this reality and embrace it. I am the person that I know the best and I feel my life experiences are not so unique as they are universal.
When making my figurative sculpture, I like to use the traditional patterned ceramic transfers for three reasons.
The first reason is because I've been making functional ceramics for

forty years. So the ceramic transfers is a nod to the clay and the history of clay.
Five years ago I discovered, using genetic testing, that my ancestry is

94 percent British Isles. ( I was hoping for something more exotic...) In the late 17th century, porcelain ware was introduced to Europe and "Porcelain Fever" ensued. There was no porcelain clay to be found, so they used white slip on their local clay and decorated on that white slip. And that is exactly what I do with my figurative pieces.
The third reason I like to use the white slip and blue transfers is that

my mom and my aunts, all southerners, valued their china and it was always used to mark holidays and any special occasion. My favorite Aunt, Jane Matthew Clarke, had, and used, a beautiful collection of blue and white china. ( I do realize that my second and third reason are closely related!)
When making functional work, I like to play. I throw and alter, make darts, turn the piece on its side or turn it upside down, and make hand built additions. Lately, I have been decorating. I think I'm trying to make pieces, while still being contemporary, that would have appealed to my southern mom and aunts.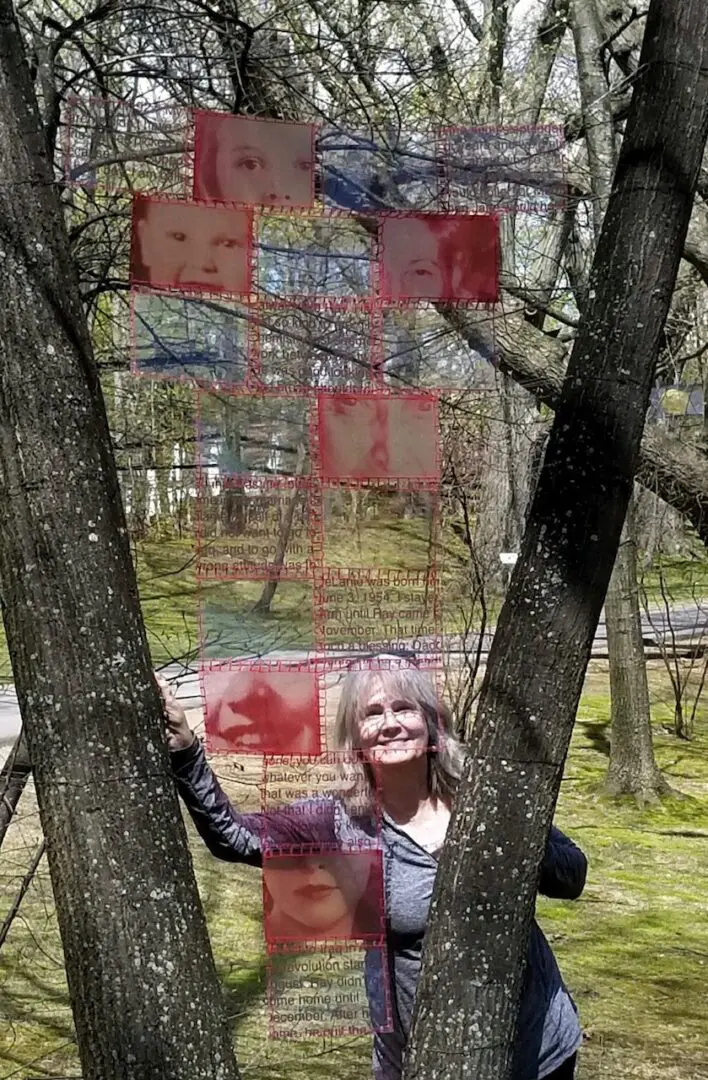 TEACHING POSITIONS
2011-2016, 2019 Instructor at Harvard Ceramics Program at the Office for the Arts
MEMBERSHIP
Associate Member of The Boston Sculptors Gallery, 2022
AWARDS
2022, Honorable Mention, The Danforth Annual Juried Exhibition, Framingham, Ma
2022, 2018 First Place Sculpture, Winter Juried Show, Duxbury, MA
2021 Third Award, "Personal Space", Hyde Park Art Association, Boston, MA
2016 John Ground Purchase Award, Strictly Functional, PA
2011 Best in Show, Winter Juried Show, Duxbury Art Association, MA
2010 Teapot purchased for the Kamm Teapot Foundation
2022 The Danforth Annual Juried Exhibition, Framingham, MA
2022, 2018, 2011 "Winter Juried Show", Duxbury Art Association, Duxbury, MA
2022 "Variations", Marblehead Arts Association, Marblehead, MA
2021 The Frances N. Roddy Competition, Concord Art Center, Concord, MA
2021, 2019, 2018 and 2016 "Strictly Functional" Lancaster, PA
2021 "Personal Space", Hyde Park Art Association, Boston, MA
2020 Biennial Members exhibit at The Fuller Craft Museum, Brockton, Ma
2020, 2017 "Cedar Creek National Teapot Show X", Cedar Creek Gallery, Creedmoor, NC
2020, 2019 "Reverberations", Studio Without Walls, Riverway Park, Brookline, MA
2020, 2018, 2012, 2009, 2007, 2002 "State of Clay", The Ceramic Guild of Lexington, Lexington, MA
2019 "2019 Art Ramble: Witnessing Change", The Umbrella, Concord, MA
2019 "Art of Clay National Juried Show", Seagrove, NC
2018 "The 10th Annual Open Juried Show", Amazing Things Art center, Framingham, MA
2018 "2018 Art Ramble: Nature Meets Narrative", The Umbrella, Concord, MA
2018 "Sanctuary" Gallery 263, Cambridge, MA
2018 and 2017 "Texas teapot Tournament", Houston, TX
2017 "New England Collective VIII" Galatea Fine Arts, Boston, MA
2017 "Small Works Salon" Chandler Gallery, Maud Morgan Art Center, Cambridge, MA
2016 "Precedents/Currents", Jackson Homestead Museum, Newton, MA
2016 "Menagerie" at the Baltimore Clayworks, Baltimore, Maryland
2012 "The Teapot Refined", Mobila Gallery, Cambridge, MA
2012 "New England Collective III", Galatea Fine Art, Boston, MA
2012 NKG National Juried, NKG Gallery, Boston, MA
2011 "Magic Dirt", Baron and Ellin Art Gallery, Norfolk, VA
2010 "Modest to Majestic", Narrows Center for the Arts, Fall River,
2010, 2009, 2007, 2006 A. Houberbocken, Annual Teapot Show, Chicago, IL
2010, 2007, 2005 "Mad Hatter's Tea Party" Armory Art Center, West palm Beach, FL
2010, 2008 ,2006 International Small Teapot Competition, Saddleback College, CA
2010 "Tea by the Sea", Newport Potter's Guild, Newport Rhode Island
2009, 2004 "100 Teapots 2", Baltimore Clay Works, Baltimore, MD
EDUCATION
1972-1976 Virginia Commonwealth University, BA, Mathematics